Thicker is better. What makes our Engineered Wood Floors better than most?
Posted: February 7, 2022
To understand why our thick engineered wood flooring stands out so much, let's first off discuss what engineered flooring consists of. Engineered floors are constructed with an inner plywood core which is typically made from birch. Then a layer, called the "wear layer" is made from a more decorative wood species that is then fused on top of the plywood core. This is the layer that you will see once the floor is installed.
Our two popular engineered flooring options include our rustic White Oak and Hickory engineered flooring. What makes these engineered flooring options so special? It's the thickness of our wear layer. Most engineered floors have a fairly thin wear layer, typically 1-2 millimeters. Our wear layer is ¼" thick. This is a huge benefit, basically, the thicker the wear layer, the more durable the floor will be. Our engineered flooring can be refinished as many times as a solid wood floor. For example, an engineered floor with a 1mm wear layer cannot be sanded and refinished at all. It can only be recoated. A wear layer of 2mm could only be sanded and finished 1-2 times. A wear layer of 3mm could possibly be sanded and refinished up to 2-3 times and a 4mm wear layer up to 4-5 times. In comparison, our ¼" wear layer is similar to 6mm wear layer engineered flooring, which means that the sanding and the refinishing options will likely outlast our lifetime. It is said that the average homeowner has their hardwood floors sanded and refinished every 8-12 years. So in short, our engineered floors are top-of-the-line.
For those of you who are visual, let's compare.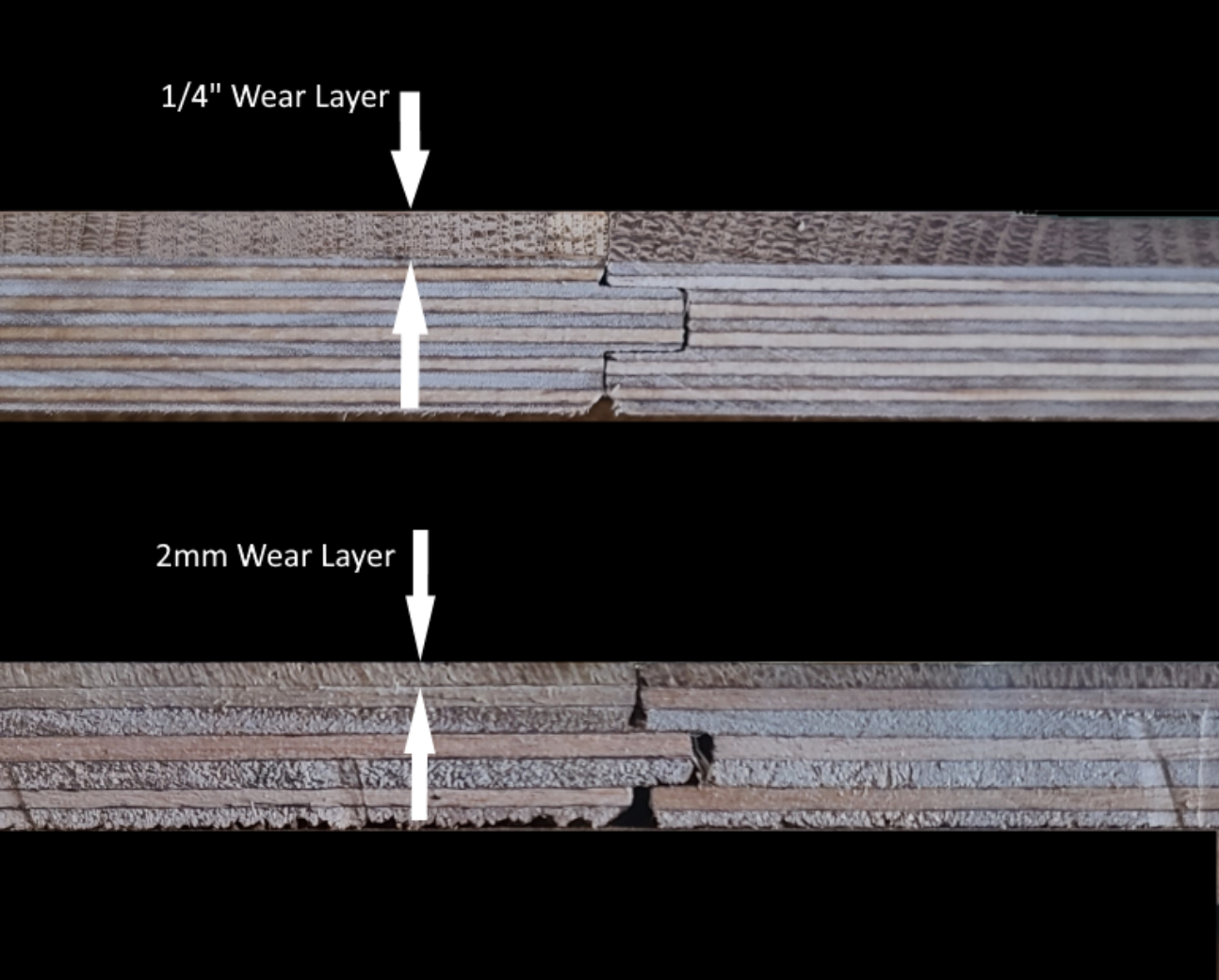 In short, there are 3 major benefits to our thick engineered wood flooring because of its wear layer.
Lifespan – the floor lasts longer and can be sanded and finished multiple times
Cost – you can sand and finish a thicker wear layer multiple times instead of having to replace a floor with a thinner wear layer once it wears through.
Durability – a thicker wear layer ultimately can take on more of the wear and tear of everyday traffic
Full Specs:
MINIMUM ORDER – 200 sq. ft.
SURFACES – Floors or walls
SPECIES – Rustic White Oak
GRADE QUALITY – Epoxy-filled voids, graded to 99% usable
HARDNESS – 1360 Janka Rating
MOISTURE CONTENT – Cured & kiln dried to 6-8% moisture content
THICKNESS – 3/4″
WIDTHS – 8″ face coverage
LENGTH – Random up to 8′
GRAIN – Mixed
PROFILE – Micro bevel edges, relief kerfs, clinch line, T&G, and end-matched (T&G on the ends)
FINISH – No VOC UV-cured Aluminum Oxide clear matte finish
PACKAGING – 21 square foot boxes
DISTRIBUTION – Factory direct shipping anywhere in the U.S.
INSTALLATION – Nail Down, Glue Down, Glue & Nail
DISCLAIMER – This is a natural wood product. Color, texture, and grain will vary from board to board.
Our knowledgeable and educated staff is here to answer any additional questions you may have. Please call us today for a free quote: Ph# 406.642.7120 or click here to submit an inquiry online. We look forward to working with you on your next project!
WE OFFER FACTORY-DIRECT SHIPPING FOR OUR SUSTAINABLE WOOD FLOORING ANYWHERE WITHIN THE CONTINENTAL U.S.